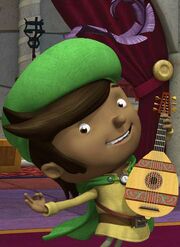 Fernando is a bard who opens and closes the show and shows up in the oddest places. Like when Evie finds her flying wand in Wizard's Treasure he is somehow lurking in the box even though the chamber is sealed and only a wand (Evie's wand is used) can open it.
"La, la la! I love to sing. And my favourite thing to sing about is Mike and his many missions with his friends Sparkie and Squirt. I will sing to you at the beginning of every show and right at the end! So look for me- I'm the one with the lute- which is a type of guitar from a long, long, time ago!
Fernando has tan skin mustard yellow shirt green robe and mustard yellow boots."
In one episode, Fernando showed Mike how to use a baton. 
Counterparts
Edit
Francesco Bernoulli (Pixar's Cars 2, both have italian accents.)